02/21/2023 / By News Editors
---
Perhaps NATO is starting to wake up. They now realize that they may have to wage war on two fronts simultaneously. NATO is considering what they call a defensive move which is an "Article 5 conflict" but also an "out-of-area" battle. This is showing that NATO is no longer what it was supposed to have been – the defense of Europe against a Soviet invasion that never took place. The "out-of-area" is none other than China invading Taiwan. NATO is simply usurping power that it was never authorized to carry out. This, Article 5 event is an attack on a NATO member, whereas the "out-of-area" is a non-NATO member.
(Article by Martin Armstrong republished from ArmstrongEconomics.com)
Clearly, we are witnessing how once power is taken, it is always abused. NATO has always billed itself as a "defensive alliance" but it has embarked on an offensive posture with Ukraine and now even Taiwan. Don't forget, NATO joined the hostilities in Yugoslavia during the 1990s and again with Libya in 2011. Many have viewed that NATO has been usurped by the American Neocons to further their agenda of manipulating US foreign policy. That is becoming self-evident by even considering war with China and Russia.
All our sources confirm that the US has demanded that Brussels increase its defense expenditures. Everyone is expected to chip in 2% of GDP – ASAP. The US is now also expecting that it will have to fight on two fronts against both China and Russia. The Neocons are demanding higher Pentagon budgets now. They simply want war and we have no right to vote on any of this confirming once again, we do not live in a democracy, but in a dictatorship masquerading as a republic.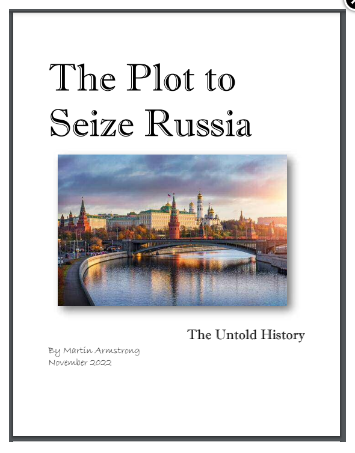 You NEVER go to war without weighing the gains against the losses. What is taking place is the very same bankers that tried to take over Russia I wrote about in the 2000 Plot to Seize Russia, are back after 23 years and they are pleading to wage war and are licking their lips once again at seizing all the natural resources of Russia from gold and diamonds, to energy and uranium. The problem, they may not survive their own greed this time.
Read more at: ArmstrongEconomics.com
Submit a correction >>